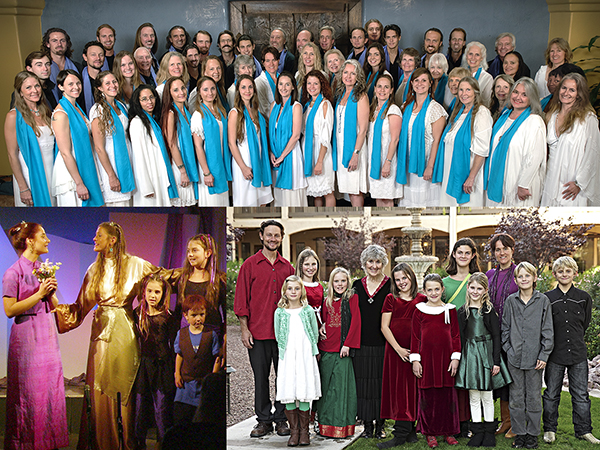 Christmas Celebration
Avalon Gardens, Tumacácori, Arizona
Sunday • December 20, 2015
Event Begins at 6:30 PM



A holiday celebration for the whole family. The evening's festivities will include live performances by two choirs, a screening of a special Christmas musical production on DVD, and a visit with Santa Claus!




Enjoy traditional and original holiday tunes by The CosmoKid's Choir of Global Community Communications Schools and by TaliasVan's Bright & Morning Star Choir & Orchestra. The CosmoKids Choir is an ensemble of students from the Global Community Communications Schools for Teens & Children. This talented group have a CD titled CosmoKids Songs of TaliasVan. TaliasVan's Bright & Morning Star Choir & Orchestra are 40 voices strong and have been harmonizing together for more than 17 years. Both choirs were founded by TaliasVan, a composer and originator of several genres of music, including CosmoWorship™. CosmoWorship is a cosmic, lyrical, and melodic celestial experience. The harmonies and arrangements are other-worldly and take the listener to heavenly realms. There is nothing else like it on the planet.




The God Child Came is a unique theatrical piece performed by Global Change Theater Company which was professionally shot and edited for DVD at Future Studios in Sedona, Arizona. The God Child Came is an inspiring story about a young woman's search for the true meaning of Christmas. The play takes you on an unforgettable journey featuring a colorful cast of characters who will tickle your funny bone and touch your heart. The story is intertwined with a beautiful, original music score from The God Child Came Christmas album.

Ages 12 & up = $7.00
Ages 11 & under = Free




Proceeds benefit teen & young adult rehabilitation programs and Avalon Organic Gardens Internships. For those in financial need, call 520-603-9932 about Avalon Organic Gardens Hands-In-The-Soil work reciprocation program (call 1 week in advance of shows).



---
Earth Harmony Sustainability Seminar
Avalon Gardens, Tumacácori, Arizona
Thursday • February 25, 2016 — Sunday • February 28, 2016
Event Begins at 9:00 AM

Avalon Organic Gardens & EcoVillage invites you to join in an exciting and innovative approach to community development and cultural enhancement. Our model community of 115+ men, women, and children is an experimental prototype intentional community designed to be replicated throughout the world, and is the largest EcoVillage in the United States. For more than 25 years, we have been working cooperatively to construct this learning center in an effort to share the fruits of our labor with other planetary citizens.


We are offering people, individuals and groups alike, the opportunity to come and learn about our method of sustainability through practical advice. We'll be providing the necessary knowledge and tools to replicate this model of living anywhere. The world is rapidly changing and many of our resources are being mismanaged and/or are in very short supply. It is with the utmost sense of responsibility and accountability that we share this wealth of information with you.

$500 for early registration (before January 25th).
$700 after January 25th
Lodging and organic meals included.

Discounts available for missionaries and agricultural workers. Call (520) 603-9932 to register or for more information.



---
Times of the Purification Gathering
Avalon Gardens, Tumacácori, Arizona
Thursday • May 05, 2016 — Sunday • May 08, 2016
Event Begins at 9:00 AM

Avalon Organic Gardens & EcoVillage in Tumacácori, AZ will be the honored host of a sacred international event: "The Times of the Purification Gathering". The intention of the Purification Gathering is to capture the heart of the Native American legacy through the arts, while exploring the indigenous wisdom of the ancestors as revealed in the prophecies of the numerous tribes of Turtle Island/the United States, and in particular highlighting the esteemed Hopi Prophecy of the coming "Fifth World".




The "Times of the Purification Gathering" will be a coming together of elders, speakers, storytellers, musicians, and dancers to share and teach about the prophesied signs which have been (and are being) revealed, indicating these times are upon us, and that all tribes are called now to join together for the good of all. The Purification Gathering is a call to brothers and sisters from the 4 corners of Mother Earth to come together in recognition of the Creator's call to purify and be made whole once again. A global ecological crisis is upon us and now, more than ever, it is imperative to pay attention to the ancient warnings of the indigenous peoples whose reciprocal and traditional relationship with Mother Earth has made them the earth guardians of the 21st century.




The Times of the Purification Gathering is part of the vision and work of Gabriel of Urantia (also known as TaliasVan) who is a spiritual leader, activist, author, musician, and cofounder of Global Community Communications Alliance and Avalon Organic Gardens & Ecovillage. The community was established in 1989 by Gabriel of Urantia and Niánn Emerson Chase and now has 110 Destiny Reservists/Change Agents from around the world who have been called to the work of restoring global balance and harmony through personal transformation and selfless service to humanity.



---