Welcome to the campus of The University of Ascension Science & The Physics of Rebellion. Avalon Organic Gardens & EcoVillage serves as the agricultural department and sustainability learning facility for the University.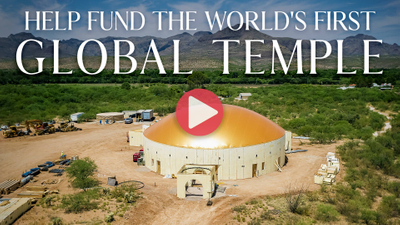 We are under construction and need your help to build The Global Temple! Please make your donations to our CrowdRise campaign here:
Donate Now!
A Campus of
Learning, Living, Doing
Avalon Organic Gardens & Ecovillage is one of the world's largest and longest sustaining EcoVillages, situated on 220-acres of historic & sacred agricultural land in Southern Arizona's fertile Santa Cruz River Valley. At Avalon Gardens, over 115 dedicated individuals practice farming using traditional permaculture principles and time-honored techniques of organic gardening, as well as new sustainable technologies. We have people from all over the world with a diverse age groups and cultural backgrounds.
We are a fully operational micro-society showcasing the success we have had incorporating a modern lifestyle within the sustainable context of a land-based society. In addition to pursuing the classical "off-grid" definition of sustainability, the EcoVillage also pursues self-sufficiency by providing meaningful vocational work, ongoing education, spiritual exploration, and dynamic cultural experiences to each of the committed, residential members of the EcoVillage.
For members of the EcoVillage, life here is an ongoing statement of disagreement with the predominant system of greed and extortion that rules Western, consumerist lifestyles… Read More >
---
Ways to Get Involved
Guided Tours
Book an educational tour of the EcoVillage through Spirit Step Tours. In-depth 2.5 hour tours, hosted by a full-time resident of the EcoVillage, will guide you through some of the systems that have made Avalon one of the largest functioning EcoVillages in the country.
Book a Tour
Educational Seminars
For those seeking to learn more about how to implement sustainability initiatives in their own communities, we provide the Earth Harmony Sustainability Seminar. Participation includes housing and meals provided by the EcoVillage during 3 or 5 days of educational seminar sessions.
Learn more about seminars
Internship Opportunities
For those interested in a longer stay at the EcoVillage, check out our internship opportunities. Interns have the opportunity to choose an educational focus and are provided an educational program tailored to their specific interests.
Learn more about internships
Volunteer
We invite you to volunteer with us! Weekly opportunities to get your hands in the soil with us and contribute to the improvement and maintenance of our local, organic food system.
Learn more about volunteering