This Event Has Already Ended
Sacred Healing CosmoPop Concert
Saturday, Oct 01, 2022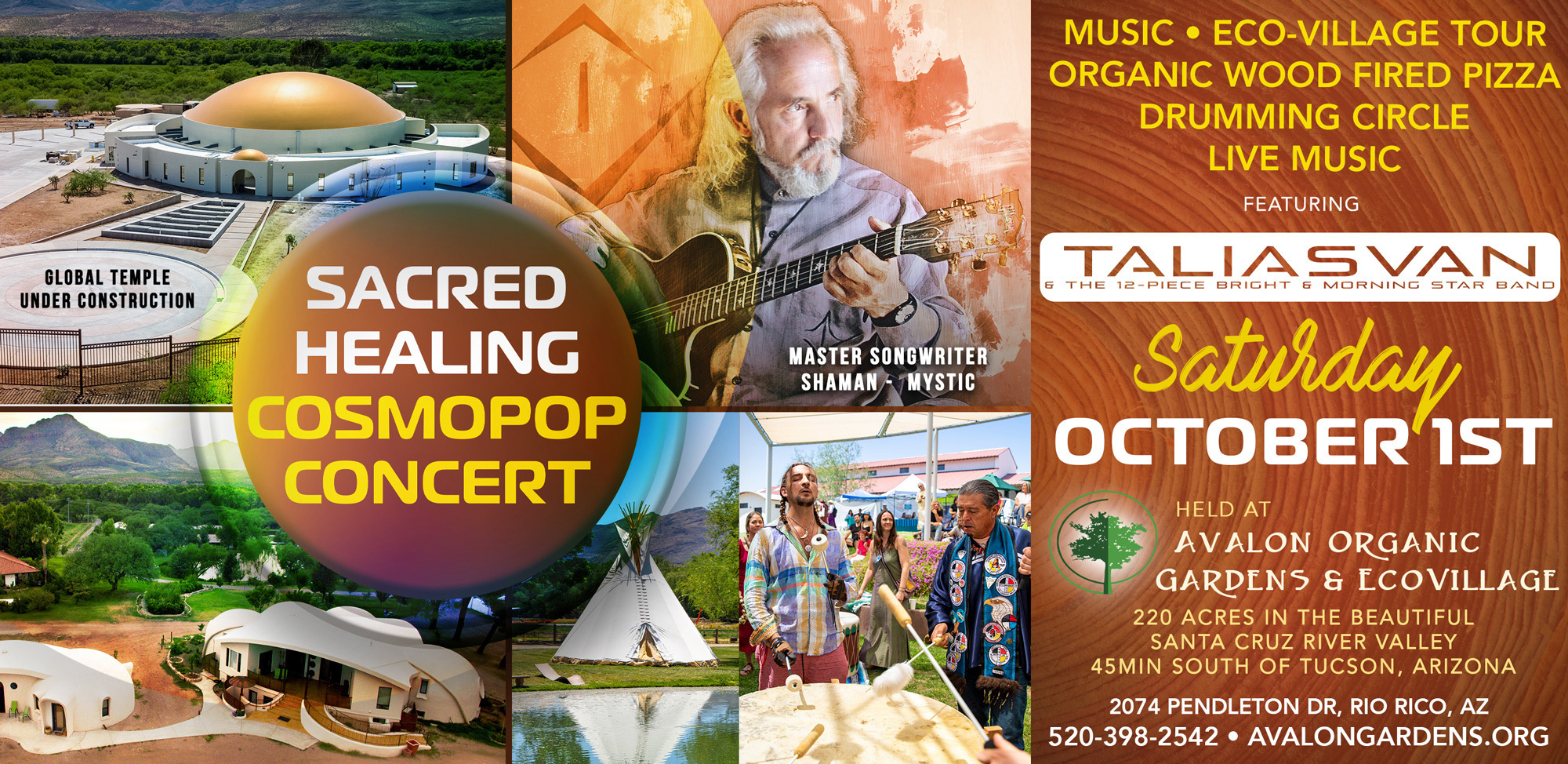 11:00AM - 7:00PM
45min South of Tucson
Tickets are $35 in advance, and $40 at the gate
Free for ages 15 and under
FEATURING SINGER & SPIRITUAL TEACHER:
TALIASVAN & THE BRIGHT & MORNING STAR BAND
Schedule
11:00 AM: Gates Open
11:30 AM: Gentle Drum Circle With Flutes
12:00 PM - 1:30 PM: EcoVillage Tour
2:00 PM - 5:00 PM: TALIASVAN & THE BRIGHT & MORNING STAR BAND
Held at Avalon Organic Gardens & EcoVillage
220 Acres of orchards, organic gardens, pasturelands, ponds & alternative buildings in the Beautiful Santa Cruz River Valley in Southern Arizona
Featuring TaliasVan as never heard before, taking the stage again with the 12-piece Bright & Morning Star Band to perform his universally renowned CosmoPop music, bringing hope and vision for the future and the return of the Promised One.
The October 1st Harvest one-day Festival is not just about celebrating the new season. It's about celebrating the soon coming of the First Stage of Light and Life on our planet, according to the Fifth Epochal Revelation/Urantia Book—what Christianity calls "The New Millennium," ushered in by the return of the Promised One, known by many names in all religions.
Who best to teach, through a 3-hour concert, what's coming down is Van, mentioned in The URANTIA Book in the Lucifer Rebellion. Van is a shortened name of TaliasVan of Tora, from the Pleiades, where his soul is actually from. To say that he is just a singer/songwriter would be very disrespectful to his soul ascension growth, as he is also a spiritual teacher, a shaman, a mystic, and much more.
He is the Co-Founder of The University of Ascension Science and The Physics of Rebellion and the Founder also of KVAN 91.7 FM in Tucson and KVAN.FM on the internet worldwide. People hear him not only in Tucson, but in Siberia, and in Africa. He has started the worldwide Spiritualution, having people tune in to God all over the world, not to denominationalism, not to religions, but to the Creator, known by many names in many countries.
We are celebrating during this one-day gathering of the starseed tribes as well as genetically-linked new souls to the Cosmic Family on Earth.
TaliasVan is calling forth the 144,000 Destiny Reservists, which you reading this might be one. You don't want to wait until it's too late, when it starts raining and you want to get into the ark and the door is now closed.
Yes there will be oven-baked pizzas, a tour of Avalon Organic Gardens & EcoVillage, but that's all minor stuff compared to hearing what TaliasVan will be teaching about the tribulation that we are presently in. Oh, haven't you heard? 1,100 people died the other day in Pakistan, and tens of thousands of others around the world. Or are those brothers and sisters not in your radar?
Activities start at 11:00am with a Drumming Circle, a 1 1/2 hour EcoVillage tour, and the Sacred Gathering at the stage to hear the 12-piece Bright & Morning Star Band.
Avalon Organic Gardens is located at 2074 Pendleton Drive in Rio Rico, Arizona. You can tell you found the right place when you pass a huge gold temple dome that looks like it should be in Mecca. That's us, the Global Temple.
Tickets to this drug- and alcohol-free family event are $35 in advance and $40 at the gate. The event is free for ages 15 and under.
GET DIRECTIONS TO THIS EVENT
Activities
Music
•

EcoVillage Tour

•

Organic Wood Fired Pizza

•

Drumming Circle